About us
HelpAge Introduction
HelpAge International started its work in Vietnam in 1997. In 2011, as Vietnam officially become an aging country, HelpAge Internation in Vietnam was established as the country office of HelpAge International to promote and facilitate the aging-related issues within the country.
Our vision is a world in which all older people can lead dignified, healthy and secure lives.
Our mission is to promote the wellbeing and inclusion of older women and men, and reduce poverty and discrimination in later life.
The world we want is one where every older woman and man, everywhere, can say:
"I have the income I need"

"I enjoy the best possible health and quality of life"

"I am safe and secure, free from discrimination and abuse"

"My voice is heard"
Our values:
We strike for significant and lasting impact
With our network members, we put older people at the center of everything we do

We respond to need where we see it, in ways that promote lasting change

We speak out with and for older people to challenge discrimination and injustice
We are inclusive
We uphold the value and dignity of every person in our work

We respect differences and strive to be inclusive in all we do

We seek to listen to all voices, particularly those that struggle to be heard
We are pasionate about learning
We take every opportunity to learn

We make space to reflect and find creative solutions

We share what we have learned from our successes and setbacks
We work as committed partners
We work alongside with our network members and other to increase reach, influence and impact

We are accountable for what we say and do

We work collaboratively, building relationships of mutual trust and respect.
Working areas:
Health and care
Even though Vietnam's medical system has improved in recent decades, it's not yet effective and affordable enough to adequately meet older people's needs. To tackle this, HelpAge International promotes healthy, active living and builds sustainable, community-based care systems to improve older people's physical and mental wellbeing.
We do this through intergenerational self-help clubs where older people can access health checkups, get help to generate an income, find out information on their rights and build social networks. The clubs organises training on self-care and first aid for both club members and the wider community, and provides outreach homecare support services twice a week to those who need it, such as the bed-bound and disabled.
Income security
Extreme weather, rapid industrialisation, and a lack of available credit and vocational training has left many many older people without a secure income. In Vietnam, a person over 60 is commonly considered "too old" to apply for a bank loan, even though this is against the law. Through the intergenerational self-help clubs, older people can access credit to start small businesses and get training on how to develop resillient, age-friendly livelihoods.
Most importantly, the loan interest is completely returned to the club itself, which helps the it to function independently and sustainably, and bring benefits to club members and the community.
Rights and entitlements
We work closely with decision makers and law enforcement bodies to help ensure effective national policies and programmes on older people and ageing are properly implemented, including Vietnam's commitments in the Sustainable Delvelopment Goals.
We help establish community-based rights and entitlements monitoring systems through the intergenerational self-help clubs, and make sure older people's voices are heard and needs are represented in our campaigns.
Where we work?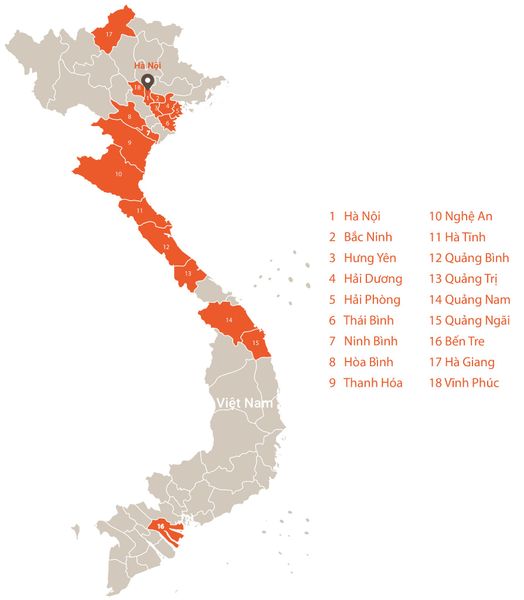 Hanoi, Hai Duong, Hai Phong, Quang Binh, Quang Tri, Quang Nam, Quang Ngai, Thanh Hoa, Nghe An, Ha Tinh, Ben Tre, Ha Giang, Hung Yen, Ninh Binh, Bac Ninh, Hoa Binh, Vinh Phuc, Thai Binh.
HelpAge network
The HelpAge global network is a unique worldwide alliance standing up for the rights of older people.

Being established in 1983, it has grown from the five original members to

there are more than 140 organisations

ac

ross 80 countries in the HelpAge global network in Africa, Asia, Europe, Eastern Europe and Central Asia, Middle East, North America, Latin America and Caribbean